NANCY-GAY ROTSTEIN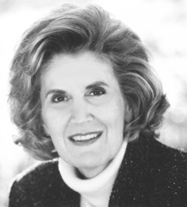 "To me, the greatest joy is creation."
–Nancy-Gay Rotstein
Nancy-Gay Rotstein has been internationally praised for her poetry, which includes her recent collection THIS HORIZON AND BEYOND: Poems Selected and New, and for her critically acclaimed novel, SHATTERING GLASS, a powerful story of today's woman trying to balance career, family, and fulfillment.
Published in twelve major countries and translated into eight languages, SHATTERING GLASS blends the author's insight and sensitivity of a poet with her experiences in politics, law, business and the arts. Nancy-Gay Rotstein puts reality into fiction in this contemporary novel as she weaves the compelling tale of three woman caught between career and family and the challenges they face. "Rotstein's writing nicely transcends the commercial fiction genre…and she brings her protagonists to life with sympathy," wrote Publishers Weekly upon the novel's U.S. publication (Farrar, Straus and Giroux). The Readers Review praised SHATTERING GLASS for its "dramatic plotting and riveting dialogue…In ways tragic, lonely and heroic this novel shimmers with contemporary hopes and fears."
Nancy-Gay Rotstein's books of poetry — in addition to her latest collection THIS HORIZON AND BEYOND: Poems Selected and New, which has been published in Canada, the United States, Australia, and the United Kingdom — include THROUGH THE EYES OF A WOMAN (1975), TAKING OFF (1979), and CHINA: SHOCKWAVES (1987). "She uses words as if they were diamonds," the Canadian Press has said of her poetry. The Canadian poet Irving Layton, in the Foreword to THIS HORIZON AND BEYOND, wrote: "Rotstein has the ability to see beyond or through appearances...the amazing ability to petrify her insights and observations into a hieroglyph, a statuary that will transcend the moment, that will transcend time."
Nancy-Gay Rotstein has successfully combined her careers as a writer and lawyer with an active role in Canada's national cultural institutions. She was appointed to the Board of Directors of the Canada Council for the Arts, where she served for six years. A strong advocate for increased funding for regional arts centers, her duties kept her in constant contact with the artistic communities throughout Canada. She has served as well as one of six directors on the board of Telefilm Canada (1993 to 1998), the federal agency responsible for developing Canada's film and television industry. She was also on the National Library Advisory Board and was a founding member of the Public Lending Rights Commission of Canada, the government agency which oversees payment of royalties to writers for the use of their books in libraries.
She received her B.A. and M.A. in history at the University of Toronto and her LL.B. degree from Osgoode Hall Law School. She was admitted to the Ontario Bar in 1987.
Nancy-Gay Rotstein is a member of the Writers Union and International PEN. She is married and has three children. She divides her time between Toronto and Shanty Bay, Ontario, where she does most of her writing.
Background on the writing of Shattering Glass
Background on Nancy-Gay Rotstein's Poetry Collections
Read the article by Nancy-Gay Rotstein, "A Passion for Writing"